International Bus & Coach shipping is easy for us since we have been doing it for over many years. While we ship many cars, we can export a coach, bus, minibus and large passenger vehicles to any country. Ascope shipping can ship your Coach from selected ports in the UK to overseas. Your vehicle must be drivable and you will need to deliver it to the departure port or we can arrange collection and delivery at an extra cost.
For us to be able to quote you correctly, we will need the exact dimensions(length, width and height) of your coach or bus and approximate weight. You are permitted to pack your vehicle with all the articles that are normally kept in there.
It is your responsibility to secure everything in your coach so that it does note move while being transported.
When exporting bus, the RoRo method is the only option due to the size of the vehicle. If you choose Ascope Shipping as your international shipping company, we will make your experience easy. All you have to do is fill out all the appropriate paperwork we send you and we'll take it from there.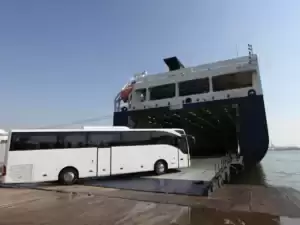 Contact us today on 01482 228366 or email sales@ascopeshipping.co.uk and let us help you with your bus / coach shipping needs today.