Roll On Roll Off (RoRo) Shipping:
Ascope shipping can assist you in shipping your car / vehicle from UK to worldwide destinations through Roll on Roll off shipping service.
RoRo is the simplest and cheapest method of shipping cars, it offers many advantages. If you look at the process of loading and unloading the vehicles, the RoRo method makes a lot of sense. The car is simply driven on and off the vessel. Hence, roll on/roll off, RoRo. Indeed it is faster compared to containers in terms of loading and unloading time.
This Method simply involves the driving of vehicle into the lower decks of large Ro-Ro ships and is therefore cheaper than the container method of shipping. Please note that not all countries have facilities for unloading this sort of ships in their docks and its therefore worth enquiring with us first.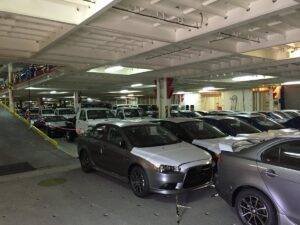 RORO vessels take on units such as cars, 4×4 vehicles, trucks, buses, coaches, vans, heavy plant machineries and trailers. RORO shipment is the cheapest overseas shipping method for vehicles from UK compared to container shipment.
We ship vehicles / cars on RORO from UK to most left and right hand drive countries.
Ports of Tilbury, Sheerness, Southampton, Felixstowe, Liverpool serve roll on roll-off (RORO) car ferry services. Vessels are purpose-built car carriers, used by manufacturers to deliver brand new and used vehicles / cars around the world. Cars are protected from the elements in enclosed car decks and are secured by straps and chocks. Service frequency is usually once or twice a month, and the transit time is sometimes longer than for container vessels, but there can be useful cost savings on some routes over container shipment.
We offer RoRo ocean transportation for vehicles to Kenya, Tanzania, South Africa, Mozambique, Namibia, Ghana, Tunisia, Cyprus, Malta, Egypt, Namibia, New Zealand, Hong Kong, Nigeria, Morocco, Tunisia, Libya, Spain, Italy, Portugal, Senegal, Gambia, Turkey, Greece, Israel, Cameroon, Zimbabwe, Zambia, USA, Canada and many more..