Shipping Cars to Tanzania (Dar es salaam)
Ascope shipping provides affordable car shipping service from UK. Shipping cars to Dar es salaam, Tanzania is our speciality. We have very good connection with shipping lines to Tanzania and that is why we are able to get good rates and pass that to you. If you are looking to ship your vehicles (cars, cans, trucks, buses and tractors) from UK to Tanzania, then Ascope Shipping is the company to choose. Shipping cars to Tanzania is a simple process through us and we will guide you all the way until the vehicle arrives at destination. 
We are number one company to trust for shipping your vehicle to Tanzania and you can confirm this by checking what our customers are saying on Trustpilot reviews.
We can arrange vehicle collection from anywhere in UK using a very safe single vehicle carrier to a UK port.
Please note, all used motor vehicles shipped from UK to Tanzania are required to be inspected by EAA Company Limited before been delivered to the port for shipping.
Prices for shipping to Tanzania
| | | |
| --- | --- | --- |
| Vehicle Type | RO/RO Prices | Container Costs |
| Saloon Vehicle e.g Toyota Avensis | £1140 | Enquire (20ft cont) |
| 4×4 Vehicle e.g. Range Rover | Enquire | Enquire (20ft cont) |
| Vans e.g Ford transit | Enquire | Enquire (20ft cont) |
| 2 cars(saloon / 4×4) | Enquire | Enquire (40ft cont) |
RORO CAR SHIPPING TO DAR ES SALAAM, TANZANIA:
Roll on Roll off (RORO) method of shipping to Tanzania offers a cost-effective way of shipping cars(saloons and 4×4's), vans, minibuses, buses, trucks, tractors, agricultural machinery and plant to Dar es Salaam, Tanzania as units are only charged for the space they take on the Vessel. We export new and used vehicles and self-propelled machinery to Dar es Salaam, Tanzania from the UK. We offer both door-to-port and port-to-port services from the UK. Vehicles can either be driven to the port or transported on our door-to-port service. We have access to all the vessels departing from the UK on a weekly basis.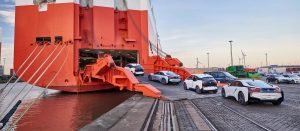 Please take note of the below for RoRo vehicle shipping to Tanzania:
Electric cars are currently not accepted without prior notice.
No personal or household effects of any kind can be loaded in any vehicle. Cars may not be loaded with any kind of spares/parts.
Self-propelled trucks MUST not be loaded with another vehicle of any description. Spare parts can only be loaded on trucks if they are specific replacements for the vehicle that they are loaded on (ie only 3 spare axles to a 3 axle truck).
Only flatbed trailers designed to carry vehicles can be loaded with other vehicles. Flatbed trailers may still be loaded with cars or trucks but only one tier high. A trailer will be allowed to have two vehicles loaded back to back, but no part of either vehicle can be balanced/suspended on any part of the other. A loaded trailer may still be pulled by a truck
head.
Where a trailer is loaded, the cargo on the rear must be complete and in running order. ie no half cuts, axles/chassis', cabs etc. All tyres on loaded trucks must be deflated if loading ex Tilbury. Loaded cargo must not overhang at the rear or the front.
Trucks coupled with trailers must be delivered to ports already coupled together.
All cargo must be in good running order with no damage – containing enough fuel to load and discharge only.
Plant and agricultural cargo must have start up and operational procedures when delivered. They must also be left in transport position by the delivering party, ports will not drop cargo into the smallest position once on quay.
Please check with us if you are unsure of anything, cargo not meeting these restrictions will not be shipped.
CONTAINER SHIPPING TO DAR ES SALAAM, TANZANIA:
Our container shipping service to Dar es salaam port is a reliable and secure way of getting your vehicles transported to Dar es Salaam, Tanzania. Rest assured knowing we provide door-to-port or port-to-port options with weekly departures from our UK locations. Furthermore, you can take advantage of our onsite loading/lashing services at the Essex warehouse or request delivery straight to your address for convenient offloading – no fuss!
When you need to move your car or household items overseas, our competitive quotes and discounted rates are sure to make the journey simpler for you. With extensive experience in international shipping, we have become a trusted name among UK's leading transportation companies – gathering sufficient volumes each month that allows us to provide excellent services at affordable prices!
Ascope Shipping can assure you peace of mind as we have a lot of experience within the shipping and forwarding industry and we will ensure that your container/vehicle will arrive on time and in the same condition that you left it in when it arrives.
NEXT RORO SHIPMENT TO DAR ES SALAAM, TANZANIA:
| | | | | |
| --- | --- | --- | --- | --- |
| Vessel: | Port: | Closing date: | Sailing date: | Arrival date: |
| Morning Crown | Tilbury | 24.11.2023 | 29.11.2023 | 03.01.2024 |
| Morning Crown | Teesport | 01.12.2023 | 05.12.2023 |  03.01.2024 |
Container shipments are weekly.
Call today for a free quotation and see how much we can save you on the cost of your shipment to Dar es salaam, Tanzania.
Before you decide to undertake car or cargo shipping to any country, it is very important to know what requirements are needed for importing cargo or vehicle in that country and that you meet the required standards. It is important you consider customs implications and costs in Tanzania that will be involved once the cargo or vehicle arrives at designated country by contacting the necessary parties.