Shipping Cars to Zimbabwe (Beitbridge or Plumtree)
Cheap car shipping to Zimbabwe. Shipping cars to Zimbabwe is our speciality. We process many car shipping to Zimbabwe enquiries per week. We handle and ship over 60 cars, trucks, vans, buses per month. This is shows that we are the preferred shipping company for returning residents to Zimbabwe, migrant workers, government departments and individuals who want their vehicles shipped from UK. We have regular and scheduled departure times from most UK ports. We have a dedicated team to attend to all enquiries.
Ascope Shipping company provides container, truck, and car shipping from the UK to Beitbridge, Plumtree, Harare, and Zimbabwe via Walvis Bay in Namibia or Durban in South Africa.
We ship cars via regular RoRo service from Sheerness port to Beitbridge, Plumtree, and Harare through Durban port, South Africa, and to Plumtree and Harare through Walvis Bay port, Namibia.
We ship new and used cars (Vehicles); vans, buses, trucks  to Zimbabwe at a very competitive rate.
Prices for shipping to Zimbabwe
| | | |
| --- | --- | --- |
| Vehicle Type | RO/RO Prices | Container Costs |
| Saloon Vehicle e.g Toyota Avensis | £1930 | Enquire (20ft cont) |
| 4×4 Vehicle e.g. Toyota Rav4 | £2140 | Enquire (20ft cont) |
| Vans e.g Ford transit | Enquire | Enquire (20ft cont) |
| 2 cars(saloon / 4×4) | Enquire | Enquire (40ft cont) |
RORO CAR SHIPPING TO BEITBRIDGE OR PLUMTREE, ZIMBABWE:
Roll on Roll off (RORO) method of shipping offers a cost-effective way of shipping vehicles to Beitbridge or Plumtree as units are only charged for the space they occupy on the vessel. 
We provide a comprehensive service for exporting vehicles and self-propelled machinery from the United Kingdom. Our services include door-to-port delivery as well as port-to-port transport, with convenient collection options ranging from car drives to our dedicated pickup option. We have weekly access to all major vessels departing UK ports – making sure your cargo reaches its destination quickly and safely!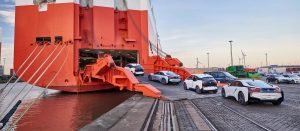 CONTAINER SHIPPING TO HARARE OR BULAWAYO, ZIMBABWE:
For secure, efficient transport of vehicles/cargo to Harare or Bulawayo, container shipping is the ideal solution. Our experienced team can safely and securely load 20ft and 40ft containers with your goods at a warehouse near you or have them delivered right to your doorstep for ease of loading. Weekly shipments are available out from the UK so don't hesitate – let us take care of it!
If you need a competitive quote for exporting your car, or you are moving to Zimbabwe and need your household items shipped, you will find our prices the best because we have been able to negotiate affordable shipping costs. The volumes we move every month has put us in contention as one of the UK's leading international shipping company to Zimbabwe. We are best placed to provide the cheapest quotes for your move overseas.
We can also help you source any car on your behalf here in the UK and export it to you, just provide us with a list of your specifications and advise us of your budget. and we will take care of everything for you.
We have many years of experience within the shipping and forwarding industry so can assure you peace of mind as we will ensure that your vehicle/cargo will arrive on time and in the good condition that you left it in for when it arrives.
CONTAINER SHIPMENTS ARE WEEKLY.
You can also check out our up-to-date Sailing Schedule and see when the next available sailings are for your destination.
Before you decide to undertake car or cargo shipping to Zimbabwe, it is very important to know what requirements are needed for importing cargo or vehicles in Zimbabwe and that you meet the required standards. It is important you consider customs implications and costs in Zimbabwe that will be involved once the cargo or vehicle arrives at the designated country by contacting the necessary parties.
Call today for a free quotation and see how much we can save you on the cost of your shipment to Zimbabwe.